November 2022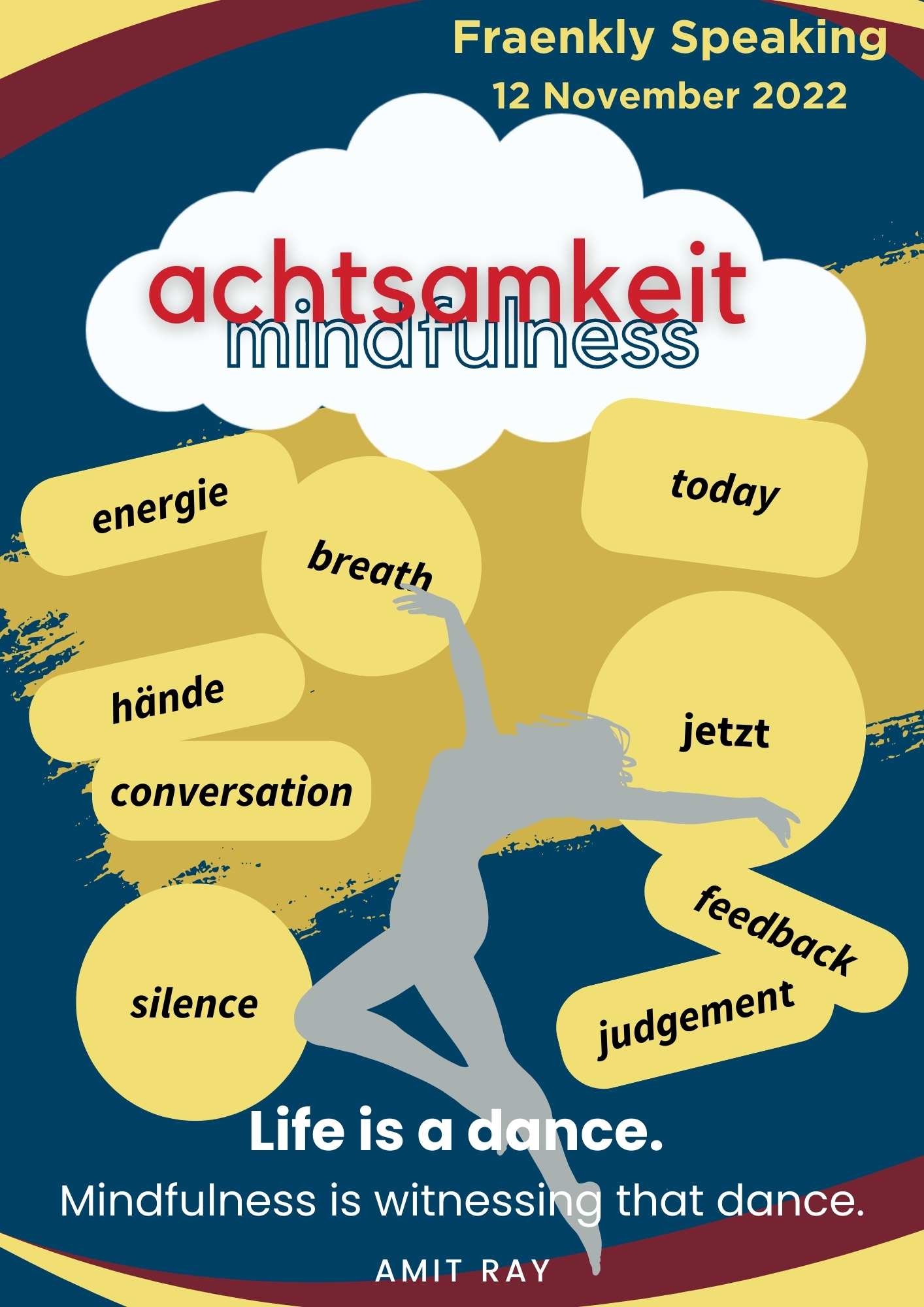 Toastmaster Marc was both entertaining and educational with his theme Achtsamkeit/ Mindfulness, peppering the meeting with  passages and personal lessons learned  from the book Achtsam Mordern. which tells the journey of fictitious lawyer Björn Diemel on his way to bringing more mindfulness into his life.
Topicsmaster Morag used thoughtful quotes related to mindfulness as the basis for questions such as "What is silence for you?"
Speaker Kevin (project: Writing a Speech with Purpose) reminded us of the value of feedback in all areas of our life as key to self improvement. And Speaker Steve (project: Leading in Difficult Situations) introduced a plan to host a virtual World Cafe in 2023, with club members challenging him to address possible disruptions to the plan.
General Evaluator Olga encouraged us to be more mindful of the timing guidelines associated with our roles and of experimenting with matching the energy level in the hybrid room when performing our roles. This is an example of putting Kevin's message to immediate practice! Improvement through feedback!
Thanks for reading, and now, take a couple of deep breaths, be mindful of where you're at right now, and note what a difference that makes!
October 2022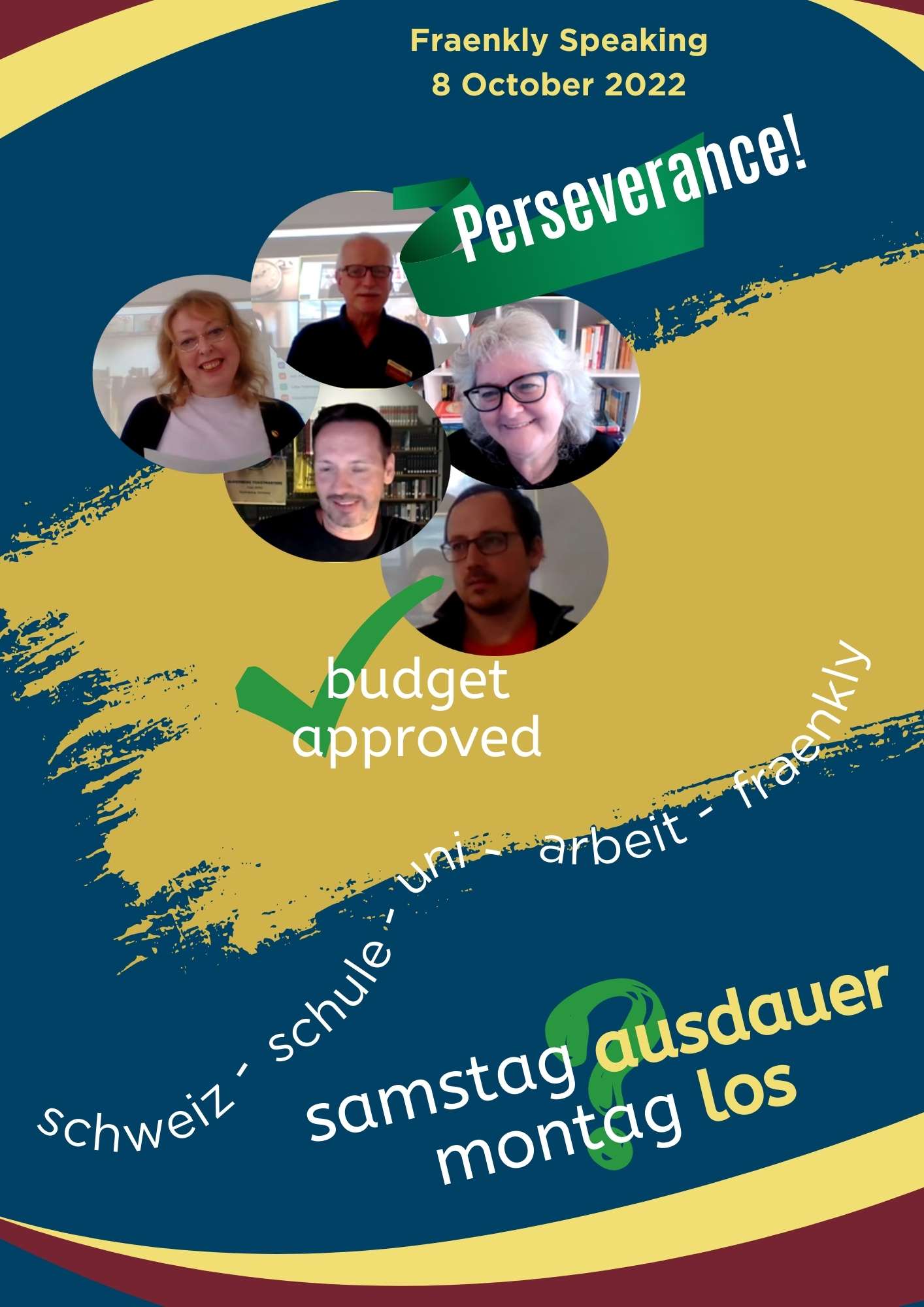 Toastmaster Guenter chose Perseverance / Ausdauer as the theme for the meeting, giving us examples of the value of perseverence in our everyday lives. Topicsmaster Olga asked questions giving us the opportunity to share how we demonstrate perseverence, cleverly alternating the questions between English und Deutsch!
Speaking of Deutsch, Rednerin Jean hat ihrer ersten Rede auf Deutsch gehalten! She brought us along on her journey with the German language from time in Switzerland as a child, through school and university, to professional applications, to her latest chalenge: Fraenkly Speaking!
Club Treasurer Axel creatively used the Pathways Q&A project to present the club's budget for 2022/23, which was ultimately approved by the members. And General Evaluator Marc showed perseverance by,among other things, facilitating a round robin evaluation of Axel's session.
But, all in all, no perseverance, no exceptional effort, was necessary during the morning, as it was a most delightful meeting!
September 2022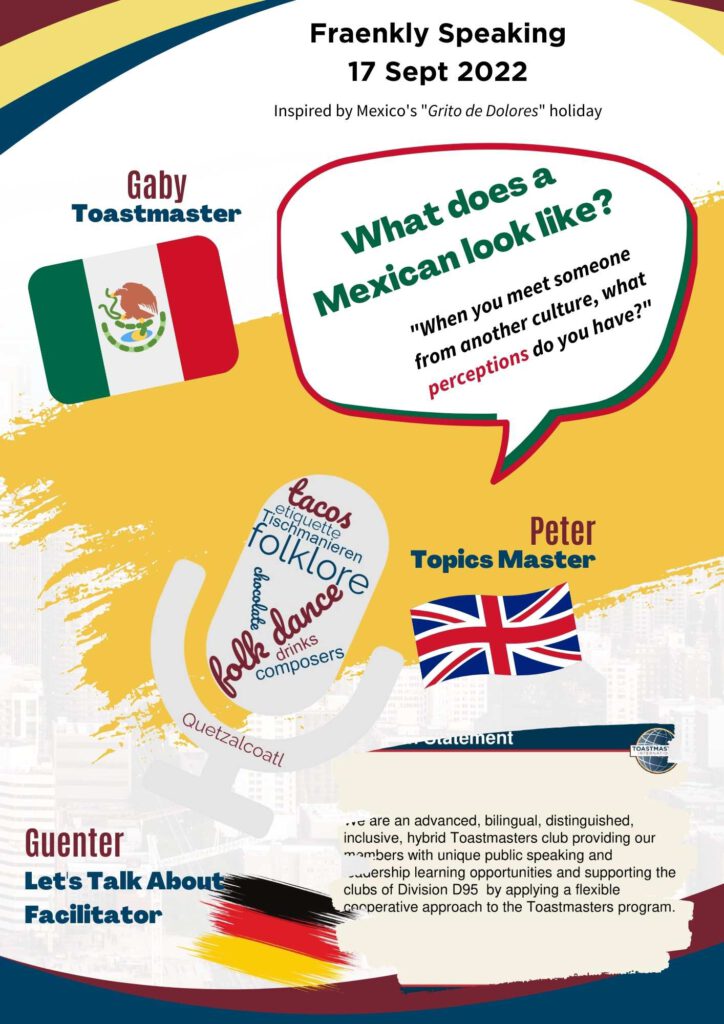 Toastmaster Gaby, celebrating the Mexican 'Grito de Delores' holiday, led us through an educational, thought-provoking, entertaining meeting having 'perceptions of culture' as a thread. Topics Master Peter introduced us to tidbits of Mexican culture as a launching point for his impromptu questions. And Facilitator Guenter guided us through a look into our our club culture.
Level 1
Peter: PM1
Steve: PI1
Margaret: MS1
David: PM1
Jean: VC1
Outside Fraenkly
Balaji: Mentor Program
David: VC1
Jean: EH5, DTM (#2)
Margaret, MS2
Morag: VC5
Olga, MS1
Level 2
Guneter, DL2
Steve, PI2
Level 3
Guneter, DL3
Steve, PI3
Level 4 or 5
Axel / Ronald